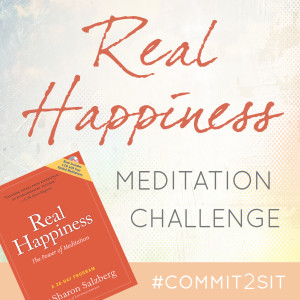 Lily, Sharon Salzberg's executive assistant sent the lovely email below:
Happy New Year! I write you from snowy NYC today, where we have just opened registration for Sharon's Real Happiness Meditation Challenge. I would like to extend a personal invitation to you to join us this year.
2017 was a challenging year for many, and it feels like now, more than ever, we need to dig deep to find greater clarity, courage and joy. So let us begin the year with an inner revolution to fuel the changes we seek to make in our lives, and in the world: the Real Happiness Meditation Challenge.
Sharon has designed this 28-day program to cultivate a robust meditation toolkit for any practitioner, new or experienced. You will learn a wide array of techniques that are simple, accessible and powerful agents for transformation. Each day of the challenge features an email lesson with a guided audio meditation and additional resources. So if you have five minutes a day, then you can do this challenge!
Last year we had around 20,000 participants who took part in the challenge, and this year we hope to expand that number. To make it as accessible as possible, Sharon is offering the challenge without a set price. You can enter a voluntary donation if you wish but there is no amount required to participate and receive an entire month of guided meditations!
You can click below to learn more about the program, and I hope you will join us.
Take Care, Lily