One Day Insight Meditation Retreat | Put on hold until June
UPDATE Due to Venerable Katapunno's sabbatical, our Saturday retreat will be put on hold from January to June 2018. We will update you once Bhante is back! In the meantime, we invite you to visit our Sunday morning meditation program at Jade Buddha Temple from 9:00 am to 10:00 am. Check our website frequently for upcoming retreats at the American Bodhi Center throughout the year.
Saturda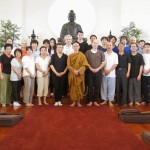 y retreat conducted by Venerable Katapunno | Sitting and walking meditation followed by a Dharma Talk & Discussion.
9:00 am- 4:00 pm American Bodhi Center 29123 Mellmann Rd. Hempstead, TX 77445 | Map and Direction
Bring your own bag lunch | Everyone is welcome to attend | Please call before you head out and let us know you will attend. 979-921-6969 – Visit Insight Meditation Group for more information.