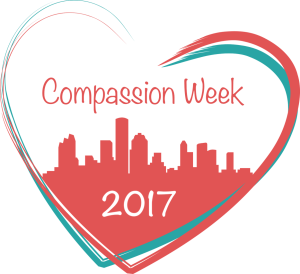 In April, the English Dharma Group participates in Compassionate Houston Week and offers an introduction and practice of metta meditation on Sunday, April 23 from 9:00 am to 10:00 am.
Compassionate Houston is a non-profit organization dedicated to building a compassionate community in Houston. For the third year, a week-long event invites organizations across Houston to participate in various ways, from offering workshops, meditation sessions, special projects, a lively outdoor festival to name a few, all focused on showcasing a compassionate city.
The English Dharma Group's free 1 hour program starts with a brief body scan to get centered, followed by an introduction on the concept of loving-kindness, respect, and compassion to oneself and all beings and ends with a guided metta meditation practice.
Houston's Compassion Week 2017 April 22-29
No need to register, just come and join us. For address and direction, click here.