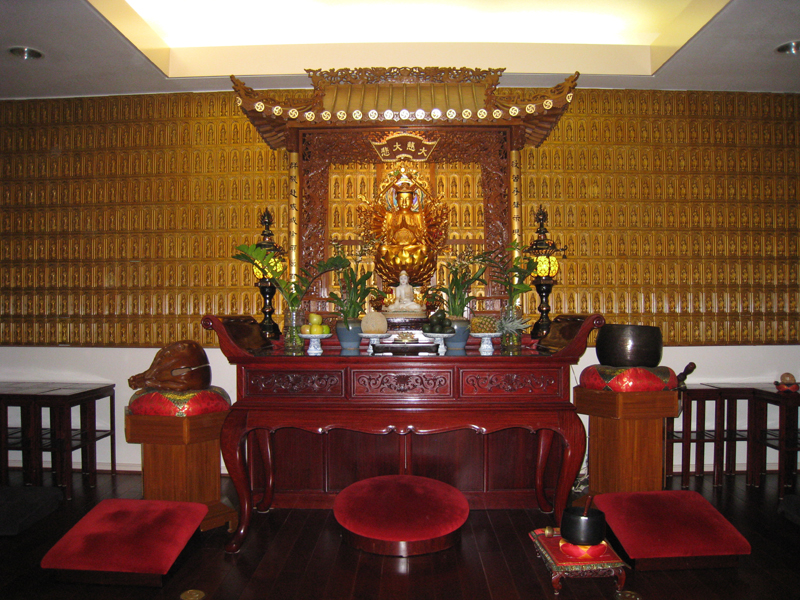 An overview of upcoming Dharma talks in May, a month filled with special events and a 3 Day Retreat at the American Bodhi Center. For more info check out the events&retreat page.
The image shows Kwan Yin Hall, the Temple's meditation hall and main gathering place of the English Dharma Group.
Buddha's Birthday Celebration | May 7 | General Assembly. Venerable Jan Hai, President of the Texas Buddhist Association will deliver a speech on the meaning of "Bathing the Buddha," followed by blessings led by Venerable Hung I, Vice President of TBA for peace in the world. Time 10:00 am Grand Hall.

Right Thinking and Right View

| May 14 | Andres Carrillo. Andres investigates two factors of the Noble Eightfold Paths. How can we best train ourselves to see the world and everything as it really is? Discover how to free your mind from negative thoughts and unhealthy patterns and replace them with wholesome thoughts. Time: 10:15 am Kwan Yin Hall.

The Eight Realizations Sutta

| May 21 | Ven Hung I. The Venerable will continue his series on the sutta. Each of the eight realizations are meant to be subjects of meditation and moment-to-moment practice. Within each one there are levels of practice that lead to gradual realization of the paths to positive personal development. Time: 10:15 am Kwan Yin Hall.

Mindfulness and Wisdom

| 5/28 | Andres Carrillo. Using mindfulness and wisdom to investigate the five aggregates. Andres covers Venerable Katapunno's fourth Sunday talk due to the Venerable's weekend retreat. Thank you Andres! Time: 10:15 Kwan Yin Hall.