Introduction to Buddhism Class
The English Dharma Groups invites you to its annual introduction to Buddhism class, led and facilitated by Bhikkhu Cintita, a Western American monk with the Sitagu Buddha Vihara Temple in Austin.
The comprehensive course, based on the Venerable's textbook below, is offered free of charge as two weekend classes, Buddhist Life and Buddhist Path at Jade Buddha Temple.
Buddhist Life in March covers the basic values, understandings and practices that constitute a Buddhist life in a Buddhist community. It has no prerequisite. The topics for the first weekend are **Buddha  **Generosity  **Virtue  **Purity  **Refuge. This is the Buddhism as it is lived by most Buddhists, that Buddhist children learn, that defines the norms of the Buddhist community. It is primarily grounded in ethics, virtue and harmony.
Buddhist Path in May covers the understandings and practices that lead to awakening. The topics for the second weekend are among others, **General Training  **Wisdom  **Training in Virtue  **Training of Mind  **Awakening. This path, which includes the Noble Eightfold Path is primarily grounded in human psychology and meditation, and complements the elements of a Buddhist Life.
Together the two classes provide a comprehensive and detailed understanding of Buddhism based on the earliest sources. This is Buddhism as far as can be discerned as the Buddha taught it and before the development of distinct sects and schools, such as Zen, Tibetan and Theravadin. The classes provide an intellectual understanding, but with a practice orientation and include lecture, meditation, and discussion.
The classes are offered at no charge since the Dharma is really priceless. Come join us!
The two classes (Buddhist Life and Buddhist Path) complement each other but each weekend can be taken as a class in itself.
Class Material:  Course material will be provided in pdf form; hard copies are made available as well. If you undertake the class, try keep up with the readings and try to attend a weekend in full. At the end of the course you will know a lot about Buddhism.
Participants: The class is intended for new Buddhists, for those just exploring, for adherents of other faiths who would like to know how Buddhist wisdom can supplement or enhance their experience of their root faith, or for students of comparative religion.
Schedule and Registration – Mark your calendar – Buddhism Beginner's Class
March 10-11 | Buddha's Life | Jade Buddha Temple | Saturday 8:30 am – 6:00 pm | Sunday 8:30 am – 5:00 pm
May 19-20 | Buddha's Path | Jade Buddha Temple | Saturday 8:30 am – 6:00 pm | Sunday 8:30 am – 5:00 pm
Register March 10-11
Register May 19-20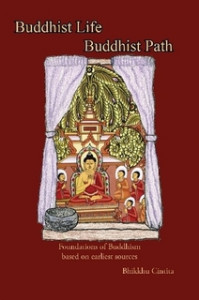 Bhikkhu Cintita's textbook is based on the earliest stratum of Buddhist texts, and provides a holistic and proportionate account of the range of the Buddha's Dharma, interpreted for the modern student. We discover in the earliest teachings a corpus that is astonishingly profound and comprehensive, consistent, brilliantly coherent and still intelligible today. Topics include not only the higher training of meditation, psychology and the path to awakening, but also practical advice on virtue, harmony, community and basic human values.
This book is divided into two parts, each of which can be studied independently: Buddhist Life concerns living devoutly, virtuously, harmoniously and in community. Buddhist Path, on the higher course of training toward awakening based on the Noble Eightfold Path.
Description courtesy of Bhikkhu Cintita Dinsmore