Introduction to Buddhist Instruments and Chanting
Would you like to learn about the history of Buddhist chanting and its application in monastic life? Join Texas Buddhist Association's Venerable Jian Yan as he teaches a hands-on class to Rice University music students at Jade Buddha Temple. The Venerable will demo different instruments, and lets students try them out.
Free Presentation – Saturday Jan 27
Time – 10:00 am
Location – Grand Hall at Jade Buddha Temple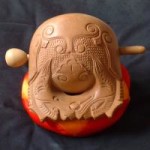 "A wooden fish, also known as a Chinese temple block is a wooden percussion instrument. The wooden fish is used by monks and lay people in the Mahayana Buddhist tradition. It is often used during rituals usually involving the recitation of sutras, mantras, or other Buddhist texts".
Text and photo courtesy Wikipedia