A Dynamic Balance of Faith, Practice, and Study – Nicheren Buddhism
Reverend Seido Francavilla, a Buddhist monk for over 50 years, was the first non-Japanese monk in the history of Japan ordained in the Nicheren sho shu sect. Over his lifetime, he studied with numerous Buddhist schools and visited over 30 countries sharing the word of the Buddha.
As the only Buddhist monk, he is a proud member of the Houston Police Department Chaplain Corps, a member of the Crisis Chaplaincy of Texas and the Community Emergency Response Teams (CERTS). In addition, Rev Seido has been active in numerous other civic organizations throughout the country.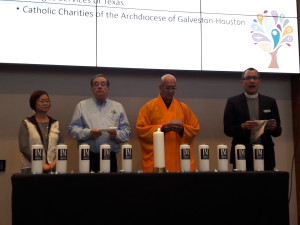 The Reverend is a dynamic part of the Houston Buddhist community and attends a great number of interfaith programs. Here he is seen doing the invocation at an Interfaith Ministries For Greater Houston prayer vigil for Refugees with EDG member Judy Jeng, February 2017.
Reverend Seido was schooled in Japan and speaks fluently Japanese. Prior to moving to Houston,  he lived in Hawaii for 35 years where he studied spirituality and visited many sacred sides. In Hawaii, he was emerged in the Hawaiian culture, danced Hula for 6 years and became the first non-Hawaiian to be a docent at Lolani Palace, a national historic landmark. Rev. Seido leads his own St Nicheren Buddhist Temple in the Lindale Park area of Houston.
Dharma Program April 9
Reverend Seido will offer a 2 hour presentation; our schedule will be slightly adjusted to allow for a free flow from walking meditation to Japanese chanting meditation including Japanese instruments, to an interactive Dharma talk, and Q&A. His program will end with the bathing of the Buddha, a ceremony intended to purify your mind.
Rev. Seido's program is scheduled from 9:15 am to 11:15 am.
Nam Myoho Renge Kyo