Venerable Bhikkhu Bodhi at Jade Buddha Temple
Sunday, November 5 | 1:00 pm to 2:30 pm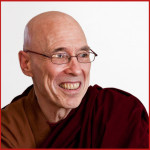 Please mark your calendar for Sunday, November 5 as Venerable Bhikkhu Bodhi accepted our invitation to speak at Jade Buddha Temple after lunch. Feel free to invite friends to this public talk on the Suttanipata from 1:00 pm to 2:30 pm.
Exert Wisdom Publications:
"This landmark volume in the Teachings of the Buddha series translates the Suttanipāta, a text that matches the Dhammapada in its concise power of expression and its centrality to the Buddhist tradition. Celebrated translator Bhikkhu Bodhi illuminates this text and its classical commentaries with elegant renderings and authoritative annotations.
The Suttanipāta, or "Group of Discourses" is a collection of discourses ascribed to the Buddha that includes some of the most popular suttas of the Pāli Canon, among them the Loving-Kindness Sutta.
Translator Bhikkhu Bodhi provides an insightful, in-depth introduction, a guide to the individual suttas, extensive notes, a list of parallels to the discourses of the Suttanipāta, and a list of the numerical sets mentioned in the commentaries."
Schedule:
1:00 pm to 2:00 pm | Dharma Talk
2:00 pm to 2:30 pm | Q&A on the Suttanipata or general questions on Buddha's teachings