Getting Around
Jade Buddha Temple lays quietly in a residential neighborhood in South West Houston, just minutes away from the busy Houston Chinatown. The complex consists of Grand Hall, overlooking a lotus pond with a statue of Kwan-Yin as its centerpiece, the Youth Activity Center, and Kwan-Yin Hall.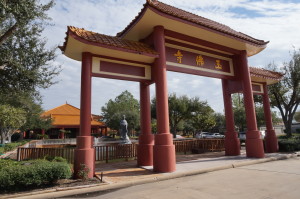 Built with modern material, the Temple stays true to its traditional roots with a Chinese courtyard arrangement of several individual houses around a square, incorporating a garden and a smaller statue of Kwan-Yin. Each room serves a different purpose; there are several living quarters, a library with a large Chinese and English collection of Buddhist literature from varying traditions, a cafeteria, classrooms, study, and meeting rooms.
The courtyard becomes a lively place when the sangha meets and mingles after Dharma talks on Sundays and for special events. If you want to get away from the hustle and bustle of the city, you are invited to visit during the week from 10:00 am to 4:00 pm, when the Temple presents itself as an oasis of tranquility and allows for a peaceful meditation outside or inside Kwan Yin Hall.
Entering Kwan Yin Hall
The English Dharma Group meets in Kwan Yin Hall. Before entering the hall, we ask that you take your shoes off and place them in provided shelves inside the foyer.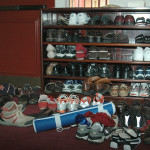 On top of the shelves, you will find various information about upcoming events, programs and other useful information. Feel free to take any flyer as a courtesy of the English Dharma Group. Donations are one way to show your gratitude for services received. A donation jar is provided at your discretion.
If meditation has started, please step into the hall very quietly to not disturb others. You may sit on a bench or cushion; seasoned meditators prefer to sit in a lotus posture. An important aspect of sitting meditation is to be able to sit comfortably, without an aching back, or legs hurting. Therefore, we leave it up to any newcomer to find the most restful position.  It is not a sign of lack of meditative ability if you are unable to sit on the floor or in the lotus posture. Towels are provided to keep your body warm.
Please refrain from consuming food inside Kwan Yin Hall and Grand Hall. We ask that you bring water or a beverage of choice in a closed and leak-proof container to avoid spilling and staining the floor and shelves.

Vegetarian Lunch
Our Sunday programs conclude with a Chinese vegetarian lunch and time for socializing following the Dharma Talk. Lunch is freshly prepared in the cafeteria every Sunday morning by an experienced chef and a multitude of volunteers. You pay $4.00 when you bring a container or $5.00 if you use a Temple paper plate. You may also take a delicious meal home for dinner.
We invite all first-time visitors to a free lunch. A dedicated volunteer will assist you in the cafeteria and provide you with a free introductory guide to Buddhism and our welcome brochure. For a digital copy click buttons below.